Improving Project Delivery
Helping the public sector improve the delivery of projects
Our Improving Project Delivery team is focused on supporting the delivery of improved outcomes for the construction industry and improved infrastructure that contributes to resilient sustainable places, and an inclusive net zero carbon economy.
We are developing and delivering a wide range of innovative industry initiatives that support the public sector and industry to operate effectively and improve asset performance.
There are five core workstream activities:
The best time for influencing the delivery of successful outcomes from investment through infrastructure projects is at the earliest stages.
Our current work at this stage of the delivery process is focussed on providing support in the following areas:
Client capability
Briefing and evaluation
Taking a whole life approach
Client Capability
Within Client Capability, we have developed the following:
Baseline Skillset Tool
The Baseline Skills Tool was developed in response to the recommendations arising from the Review of Scottish Public Sector Procurement in Construction, Oct 2013.
Project Development Support
We are providing early project development support to Senior Responsible Officers and Project Directors on several building projects across a variety of sectors. These include projects that are complex and/or complicated, projects that involve more than one public sector organisation wishing to collaborate, or where the project is being led by an organisation or person with limited experience in construction project delivery.
The approach ranges from providing experienced direct support, mentoring, project board membership, to facilitating risk and procurement strategy workshops.
Briefing & Evaluation
Our Briefing and Evaluation Framework has been developed to support anyone embarking on any form of infrastructure investment project to help define, validate, and evaluate the outcomes they are seeking to achieve. It provides a range of techniques and tools for brief planning, stakeholder engagement, development of objectives and evaluation.
Taking a Whole Life Approach
The Whole Life Appraisal Tool is designed to assist with making informed decisions to optimise a built asset's whole life performance.
The appraisal tool provides a consistent method of comparing and reporting whole-life outcomes for a project. It is both a qualitative and quantitative process that looks at the costs and outcomes during the design, construction, operation, and disposal stages.
There is a big drive across the construction world to improve construction quality.
In the UK and in Scotland some relatively recent well-publicised project incidents relating to the delivery of construction quality have increased the intensity of focus on this topic.
The public sector has taken notice and there are several activities in motion across Scotland at the project, programme, and organisational level and we are active across this spectrum.
We have played a key role in establishing the Construction Quality Improvement Collaborative (CQIC) which is a Scotland-wide, sector-wide campaign that has been growing in its development over the past few years and has involved key players from both the public sector and construction sector. Our team has been involved in, and has supported the CQIC since its inception and providing programme support for the initiative.
We have been working with partners to develop a programme of work which is called Transforming the Value of Consultancy.
This is a collaborative venture to review and change the scope of service, remuneration and approach to procurement for key roles on social infrastructure projects to enhance the value consultants can add.
The environment in which the sector operates to define, design, and deliver construction projects is influenced by the drive towards an outcome-focused approach for investment, consideration of the longer term, and the need for an improved 'product'.
In addition, there is a vital need to do something significant for improving the vibrancy and sustainability of the construction industry, including its professional consultancies.
The last few years have seen a considerable number of construction sector improvement initiatives led by the UK Government, Scottish Government, professional institutes, and Construction Scotland, amongst others. These have been wide-ranging, across design, procurement, project delivery, planning, digitisation, workforce, and modern methods of construction.
The push towards achieving Net Zero Carbon is a major new criterion in tandem with resilient and sustainable places and inclusive economic growth.
The delivery of new-build affordable homes is set amongst the most challenging circumstances in a lifetime including the climate emergency, cost-of-living crisis, material and labour shortages, inflated construction costs, and post-pandemic recovery, as well as the general need for construction industry transformation.
Combined, these characteristics present the perfect opportunity within the housebuilding sector, for a step-change in the way we design, procure, and build homes for people, homes for sustainability and homes for growth.
To support change, and enable the accelerating move towards net zero, we have been working with a range of stakeholders including Scottish Government, public bodies, local authorities, registered social landlords, industry and academia at both programme and project levels to develop a new model for the delivery of affordable homes. This has a focus on increasing the use of offsite construction.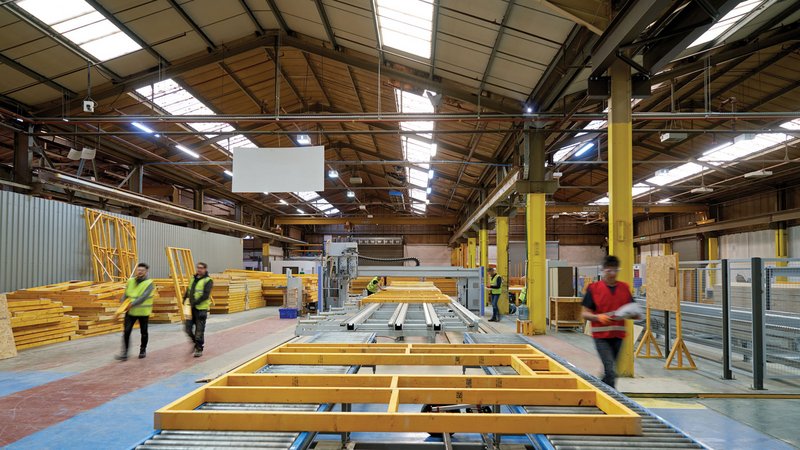 The Edinburgh Home Demonstrator programme has been a big focus this year. Its five workstreams including demand-led analysis, net zero design, new procurement model, whole-life performance and pilot projects.
Through the five workstreams we have established a 'kit of parts' for the delivery of new build affordable housing, including a managed pipeline of new build projects within the Southeast Scotland City region, a regional design and performance standard including typologies, and a collaborative delivery partner approach, all of which employ modern methods of construction and greater use of offsite construction.
By enabling greater use of offsite construction as part of the new delivery model, industry can invest in its capacity and capability to better serve demand; buildings can be more resilient through improved performance and reduced reliance on energy for heating and hot water, and people can live in warm and healthy affordable homes for years to come.
We developed and maintain a number of tools and subsequent datasets to provide insights and help deliver improved outcomes for construction.
Construction Pipeline Forecast Tool
The Construction Pipeline Forecast Tool provides a look forward as to the anticipated public sector spend on construction. The forecast tool has been developed by the Scottish Futures Trust in partnership with industry and public sector bodies.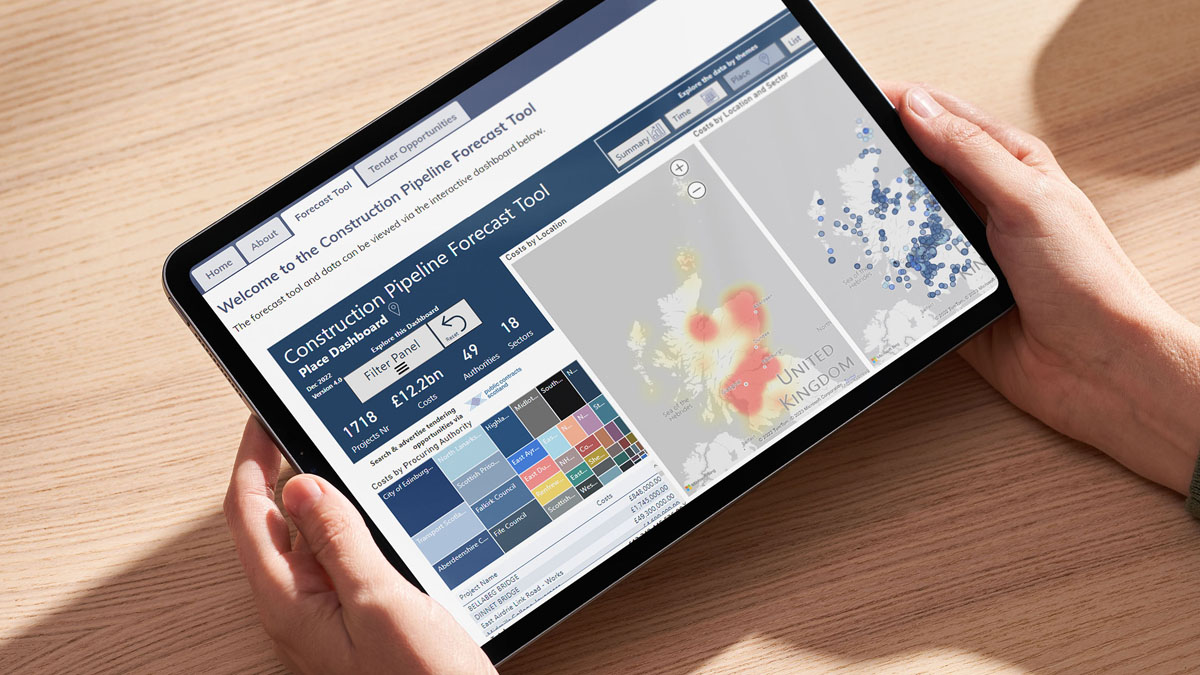 Industry Benefits
Provides business confidence through greater transparency of forecast construction spend
Enables targeted upskilling and business investment to respond to future pipeline projects
Enables greater collaboration within the supply chain;
Public Sector Benefits
Provides an efficient and centrally managed system to enable greater transparency
Enables greater collaboration and insight in forecast investment by place
Supports the development of a sustainable and prosperous construction industry to deliver high-quality public sector infrastructure
Community Infrastructure Benchmark Database
This community infrastructure benchmark database facilitates the sharing of construction-related project data amongst public sector organisations within Scotland.
It contains project data for schools, healthcare, and community facilities. The benchmark database is supported by a robust data collection process to ensure data is credible, accessible, and easily understood. The database offers an easy-to-use search function to locate projects and also provides pre-defined reporting templates.
In addition the database automatically adjusts project data for inflation to offer like-for-like analysis.
For further guidance on how to use this database please refer to the information video or the Community Infrastructure Benchmark Database guidance.
For any enquiries, please contact the administration team.
The Construction Accord, launched in October 2022, sets out the framework for transforming the sector, outlining a dynamic collaboration for all of the Scottish public sector and the construction industry, creating a shared vision underpinned by a range of agreed outcomes.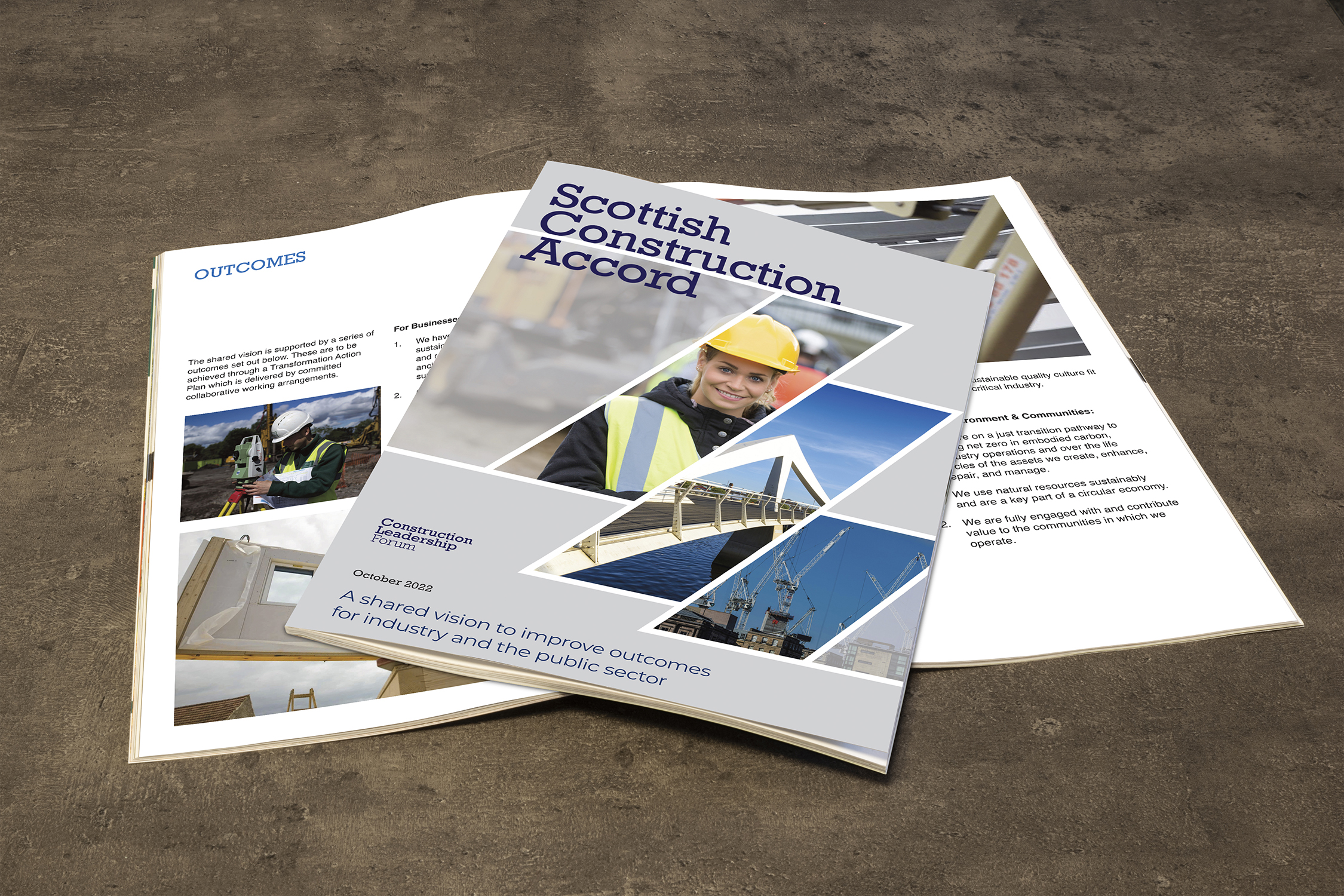 We are actively involved in the facilitation and management of the transformation work and co-chair of the Transformation Board. This board will oversee the delivery of activities and change within the sector to deliver on the ambition of the Construction Accord.