hub Programme
Delivering community infrastructure projects across Scotland
The Scotland-wide hub Programme is based on a partnership between the public and private sectors to deliver new community facilities.
The hub Programme operates across Scotland in five territories, where public bodies (local authorities, NHS Boards, blue light services etc) in each of those areas have come together and appointed a private sector development partner to form a joint venture company, known as a hub Company or hubCo to deliver those new community facilities.
The hubCos are jointly owned by the public and private sectors and are responsible for working with and establishing the requirements of their public sector customers, and then engage designers, engineers, cost managers and contractors to deliver the required infrastructure.
The hub Programme encourages Scottish SMEs to be an integral part of the supply chain with each hubCo committed to a high level of SME involvement in projects.
Our hub team acts as the manager of the Programme, providing a combination of programme oversight, guidance, assurance and direction while promoting best practices.
This work also ensures project delivery teams to help ensure the right projects are delivered in the right locations, in the right way and at the right price, with additional benefits to local communities.
We have used the hub Programme as a platform to launch and test new initiatives, including those relating to construction quality improvement as well as tackling the climate challenge and the net zero agenda.
The five hubCos are developing and delivering a diverse pipeline of best-value, award-winning community infrastructure, and every quarter we update the hub project pipeline and publish a dashboard that reflects key performance indicators.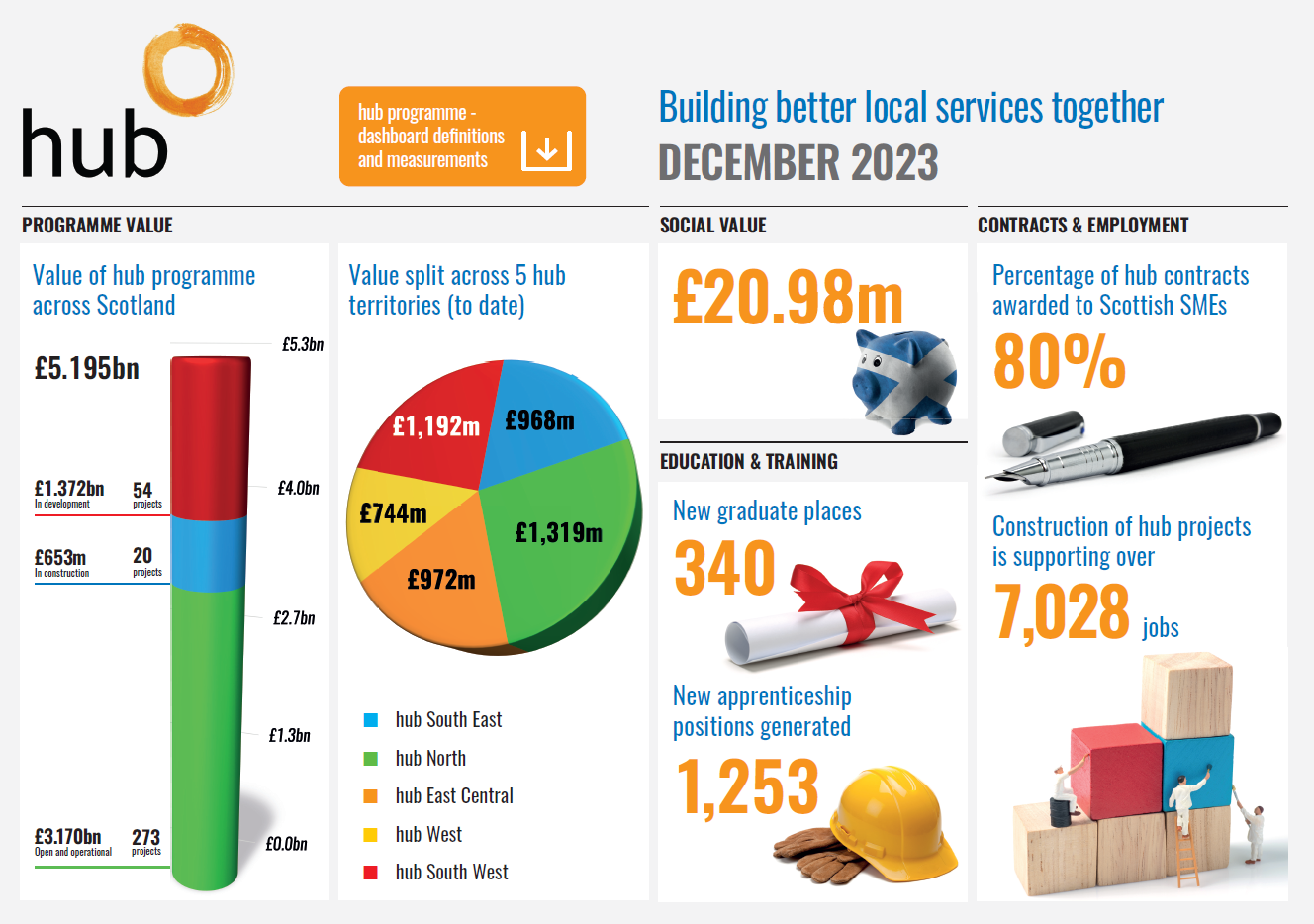 Since the inception of the hub Programme, the hubCos and their supply chains have committed to deliver community benefits as an integral part of the construction projects.
Our hub Programme Management Office has worked with the Social Value Portal to develop a set of Themes, Outcomes and Measures which provide Participants with a framework of relevant measures which can be adopted to set social and local economic targets for the projects which they are procuring through the programme.
Details of the approach which is being adopted can be found here and the detail of the proxy values used can be found here.
Across the hub Programme, 41 projects were delivered using the revenue-funded Design, Build, Finance and Maintain (DBFM) model.
An alphabetical list of all hub DBFM Project Agreements and Financial Models is available here.
hub Investor Information
hubCo and hub Design, Build, Finance, Maintain (DBFM) project investors are updated and published annually in February.
hub Financial Indicators
Weighted Average Cost of Capital (WACC) and Project Internal Rate of Return (IRR) information for the hub DBFM programme and for individual projects which are beyond their confidentiality period is provided in the following file - WACC/Project IRR.