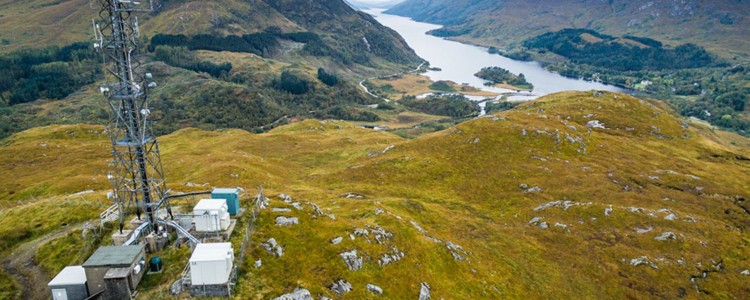 The work of the Scottish Futures Trust to deliver 2, 3 and 4G mobile services to the remote Isle of Coll is one of three projects shortlisted for a Rural Innovators Award 2015-16 in the 'Communications' category. The project is part of SFT's wider work with Scottish Government aimed at supporting the delivery of World Class digital connectivity across Scotland.
Derek Graham, Programme Director of the 'Demonstrating Digital' team at SFT, explained: "The remoteness of the Isle of Coll meant there had never been mobile reception due to the mobile network operators not wanting to deploy their mobile services using their standard business models.
"Working in partnership with numerous stakeholders, SFT developed an innovative and sustainable solution using a community owned telecoms mast (funded by Scottish Government), now owned and maintained by Development Coll, with the mobile service supplied by Vodafone.
"Today, Coll is the first Scottish island that has 4G mobile coverage which is now opening up many commercial opportunities for local businesses that are taken for granted on the mainland."
The Rural Innovator Awards are run by the Scottish Rural Parliament and seek to recognise and showcase the most innovative and effective ways in which rural challenges can be addressed. The awards will go to projects, individuals or organisations who are improving life in rural communities by tackling one of the priority challenges.
There are 12 categories including; Communication, land, Community Council, young people and transport.
Scottish Rural Parliament, National Coordinator Emma Cooper said: "We are very excited to be able to start accepting votes for the Communication Rural Innovators Award. Some incredible and inspiring projects were nominated for the awards in this category and we would encourage people to vote for the one they find most innovative and inspirational. We are currently leading a campaign to improve broadband and mobile services in rural Scotland, so it is incredible to see communities who have taken action and have brought these essential services to their area."