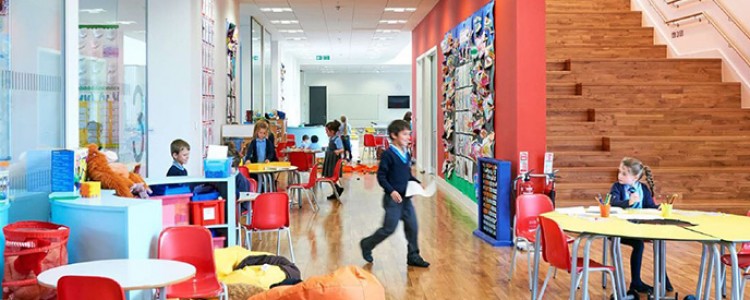 Scotland's first 'Reference Primary School', the recently opened Lairdsland Primary School in Kirkintilloch, East Dunbartonshire is revolutionising how future primary schools across Scotland are designed and used.
The innovative design has been developed by the Scottish Futures Trust (SFT) in conjunction with East Dunbartonshire Council.
SFT works with every local authority across Scotland to drive forward the Scottish Government's £1.8bn Scotland's Schools for the Future programme and helps local authorities achieve the very best value for their investment in new schools.
The ground-breaking and adaptable design has been created to provide local authorities with a cost-effective, highly efficient and flexible design which is better suited for modern teaching.
Importantly the reference design is scalable so that it can be simply adapted for larger or smaller pupil numbers.
Innovative elements of design include:
Extra wide staircase that doubles as theatre seating
Classrooms with internal glass walls and no doors
Flexible break-out spaces adjacent to every classroom
Covered balconies connected to each classroom allowing teaching to take place outside
Unisex toilets attached to all classrooms
Double-height glass-walled central atriums allowing light to flood into the school whilst simultaneously reducing energy costs
Such has been the positive reaction to the school that East Dunbartonshire Council has signed up to build Lenzie Moss Primary School using the same design and the City of Edinburgh Council is currently considering elements of this in the design proposals for its new St John's RC Primary School.
Other councils to use the reference design are:
Argyll & Bute Council – Kirn Primary School
Inverclyde Council – St Patrick's Primary School
West Dunbartonshire Council – Balloch Campus
Grant Robertson, associate director at SFT and who leads the Scotland's Schools for the Future programme, explained: "With Scotland's councils under constant pressure to make their budgets stretch further, many local authorities are recognising the huge benefits to be had by adopting the reference design.
"One significant benefit is that they have a tried and tested architectural concept at their fingertips ready to use immediately without having to embark upon lengthy procurement processes that suck in resources and wastes time and money."
Billy MacIntyre, Head of Resources at The City of Edinburgh Council stated: "The Reference Primary School is providing us with an innovative and cost-effective blueprint from which we can draw many elements to consider for our new St John's RC Primary School which we see as being a potential model for any future primary schools with particular reference to the scalability of the Lairdsland design."
Minister for Learning Alasdair Allan said: "The Scottish Government aims to ensure all children benefit from the best possible learning experience. We are committed to delivering high quality, well designed, sustainable schools through our £1.8 billion Scotland's Schools for the Future programme.
"Lairdsland Primary School is an excellent example of how SFT uses innovative and modern designs to create fantastic environments for our young people to learn in. I'm pleased to see other local authorities adopting the reference design and I look forward to seeing these new school buildings when they're completed."
Notes to editors:
Reference Primary School - (Lairdsland)
Following a competitive tender in 2012, SFT appointed two architects, Reiach and Hall, and Walters and Cohen, to develop a Reference Primary School Design as part of a collaborative project involving SFT and East Dunbartonshire Council.
The reference designs were based on a project to replace Lairdsland Primary School in Kirkintilloch which is part of the Scotland's Schools for the Future programme.
Both designs have been progressed to RIBA Stage C and have been developed to deliver highly efficient, flexible and effective space for learning and teaching, with the school designs being scalable so that they can be modified for smaller or larger school rolls.
East Dunbartonshire Council chose to use the design produced by Walters & Cohen architects.
The new school opened in April 2015 and was built on a brownfield site adjacent to the Forth and Clyde Canal.
A computer generated fly-through of the school can be viewed here.