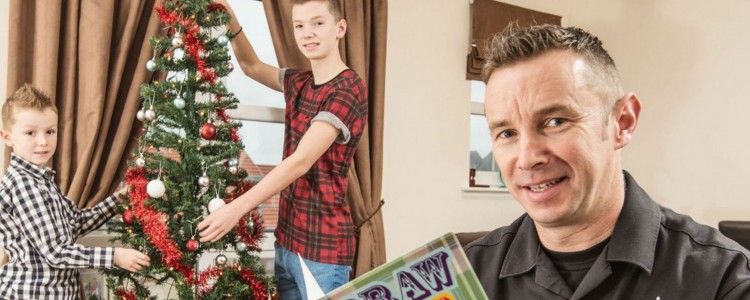 Representatives from the National Housing Trust (NHT) and Fife Council welcomed the latest tenant as Fife fireman Craig Mackie took the keys to his new affordable-rent home at Caraille Green in Crail in time for Christmas.
Delivered by the Scottish Futures Trust (SFT), NHT is an award-winning programme designed to help Scotland's local authorities increase the supply of affordable-rent housing in conjunction with the Scottish Government. Since its launch in late 2010, contracts have been signed to build over 1,275 homes across 10 local authority areas.
At the Crail development, house builder Stewart Milne is building 62 new NHT homes of which 18 have been built with the rest to be completed in early 2015.
Firefighter Craig Mackie, (43) who is based at the Methill fire station said: "Having been brought up in Crail it's great to have moved into this wonderful new home, which is close to family and friends. I'm so looking forward to the independence and space for myself and my sons to enjoy, and all in time for Christmas too."
"Having an energy efficient heating system and well-insulated walls will mean my fuel bills will be halved which is a real bonus especially at this time of year when the central heating will be on so much more. That, along with the savings I'll be making as a result of paying considerably less rent than I would be compared to private rental properties, will go a long way towards me saving a substantial deposit, either to buy this home or another house."
Christa Reekie, commercial director at SFT, explained: "The total value of homes across the NHT programme has reached £200 million. However, the real and tangible value of the programme is the opportunity for people like Craig to live in quality, affordable-rent homes close to their families. Construction of the homes is also supporting many SMEs across the country."
Cllr Judy Hamilton, Fife Council's Executive Spokesperson for Housing & Building Services added: "We aim to deliver 2,700 new affordable homes by 2017 in Fife and initiatives like this are just one way the council and our partners are doing that. We have a number of proposals in development and under construction across Fife but it's great to be here today to celebrate the first phase of homes in the Crail development now welcoming their first tenants."
Housing Minister Margaret Burgess said: "Across the country the NHT initiative is making a real difference to people's lives by delivering good quality and affordable homes and I am therefore delighted to hear that tenants are moving into these homes in Fife.
"Housing is a priority for this Government and we are doing everything possible to stimulate growth, maximise our investment in housing, and deliver on our target of 30,000 new, affordable homes over the lifetime of this Parliament."