SFT has been working with the Scottish Government and all 32 local authorities to support the development of local Early Learning and Childcare expansion plans.
These plans will be delivered through a mixture of refurbished and extended public sector assets, building on relationships with partners in the private, voluntary and third sectors, as well as building new facilities. It is currently estimated that around 140 new-build facilities will be delivered across Scotland.
Nine case studies reflecting some of the imagination utilised across the programme have been created and can be accessed by clicking the picture below.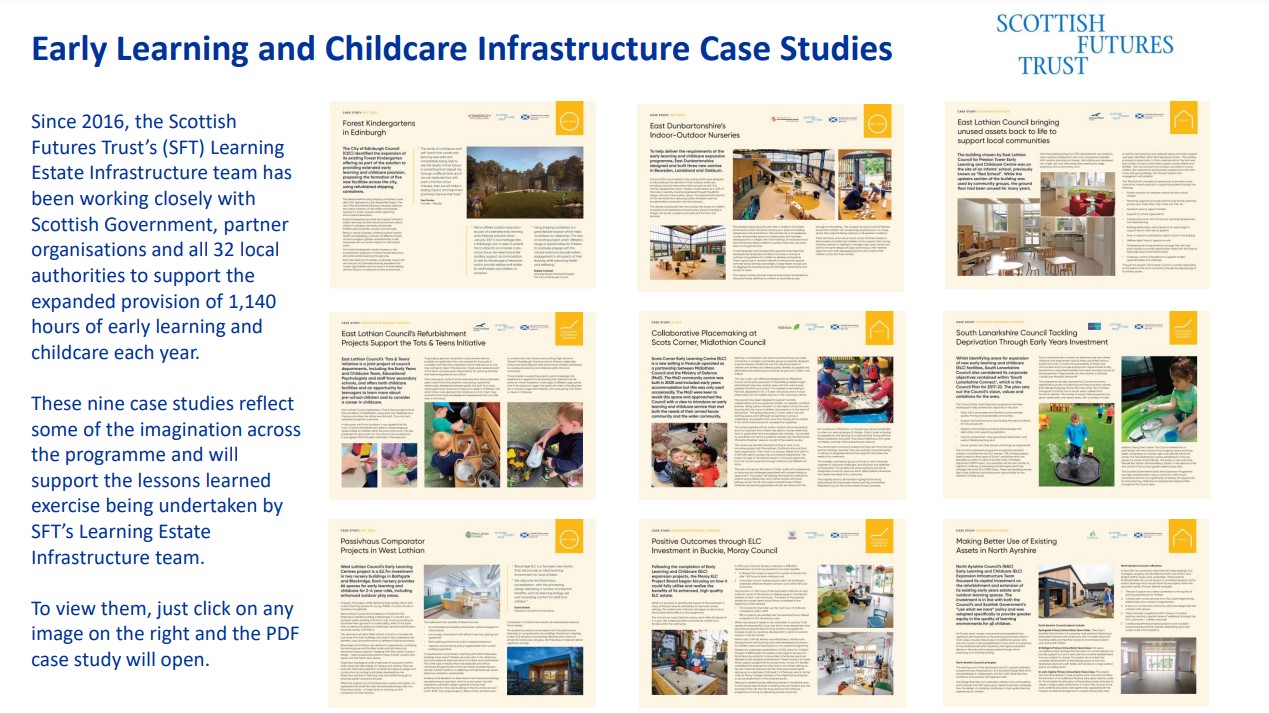 In early 2020, SFT commissioned three video case studies to reflect the achievements of three local authorities and they can be viewed by clicking the image below.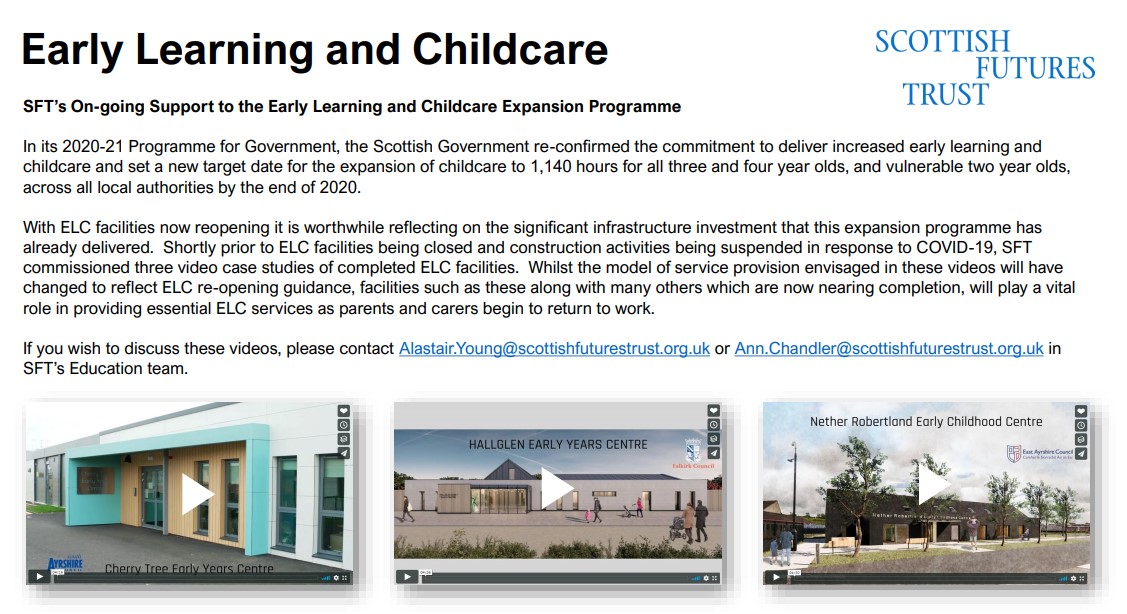 SFT, working in partnership with East Ayrshire Council and two architects developed reference to support local delivery. The ideas and concepts incorporated in each of the designs have the potential to be taken on their own and used as part of a catalogue to inform options for refurbishment, extension or new build projects.
To support the on-going development of local authority Early Learning and Childcare Expansion Plans, SFT continued its engagement with East Ayrshire Council to produce a whole life cost assessment of each of the three reference designs that were concluded in May 2018.
The whole life cost summaries have been prepared in accordance with SFT's Whole Life Appraisal Tool for the Built Environment which consists of an online excel workbook that offers a clear and consistent method of reporting whole life outcomes for a project. For further information on SFT's Whole Life Appraisal Tool please follow the link below.
The whole life cost assessment reports, along with links to the relevant excel workbooks, provide a useful summary of the anticipated operating, energy, maintenance and life cycle replacement costs for each of the three reference designs as well the three new build nurseries procured by East Ayrshire Council are given below. This information will be a helpful reference point for local authorities looking to undertake a whole life cost assessment as part of the development of business cases to support their decision making for future projects.
Links to each of the three Reference Design reports as well as their respective Whole Life Cost Assessments and associated whole life cost workbooks are given below:
ANDERSON BELL + CHRISTIE - REFERENCE DESIGN
Reference Design Report Sections 1-4 - The Reference Design
Reference Design Report Section 5 - The Model in East Ayrshire
Reference Design Report Section 6 - Refurbishment Solutions
Reference Design Report - Appendices
Reference Design - Presentation
Early Years Facility - Whole Life Cost Summary
SFT WLAT V1.5 EarlyYears - ABC 04.04.19.xlsm
EAST AYRSHIRE COUNCIL - REFERENCE DESIGN
Reference Design - Presentation
Reference Design Report Sections 1-4
Reference Design Report Section 5
Reference Design Report Section 6
Reference Design Report Section 7
Early Years Facility - Whole Life Cost Summary
SFT WLAT V1.5 EAC Ref 04.04.19.xlsm
NORR - REFERENCE DESIGN
Reference Design Report Sections 1-4 - The Reference Design
Reference Design Report Section 5 - The Model in East Ayrshire
Reference Design Report Section 6 - Refurbishment Solutions
Reference Design Report - Appendices
Reference Design - Presentation
Reference Design - Amended Floor Plan
Early Years Facility - Whole Life Cost Summary
SFT WLAT V1.5 NORR 04.04.19.xlsm
Kilmaurs Nursery
Link to Report

Link to workbook



Nether Robertland Nursery
Netherthird Nursery