Working with key partners, we've taken the lead to develop a roadmap to support Scottish Government's Digital Strategy.
Building on this roadmap, our team's focus is moving towards developing a programme to enhance infrastructure investment and its delivery in Scotland.
As part of this, we continue to work with stakeholders to strengthen the programme with a view to identifying the most commercially viable approaches that will make the greatest positive impact on Scotland's economy and its competitiveness and address the digital divide.
It's envisaged that wider engagement across the public and private sectors will be key to raising the profile of our work to ensure that it fully supports Scottish Government's strategic objectives.
We continue to seek to influence the digital strategy at a UK Government and Ofcom level, along with the development of further pilot and pathfinder projects to demonstrate the impact of the different approaches being developed.
The team is focussed on the development and delivery of digital infrastructure programmes. Working with stakeholders such as local authorities and public bodies to identify business and use cases to enable future digital infrastructure initiatives. We are also looking beyond Scottish shores to enhance the country's international connectivity and unlock the vast opportunities associated with improved data transfer and storage within the country.
Current Activities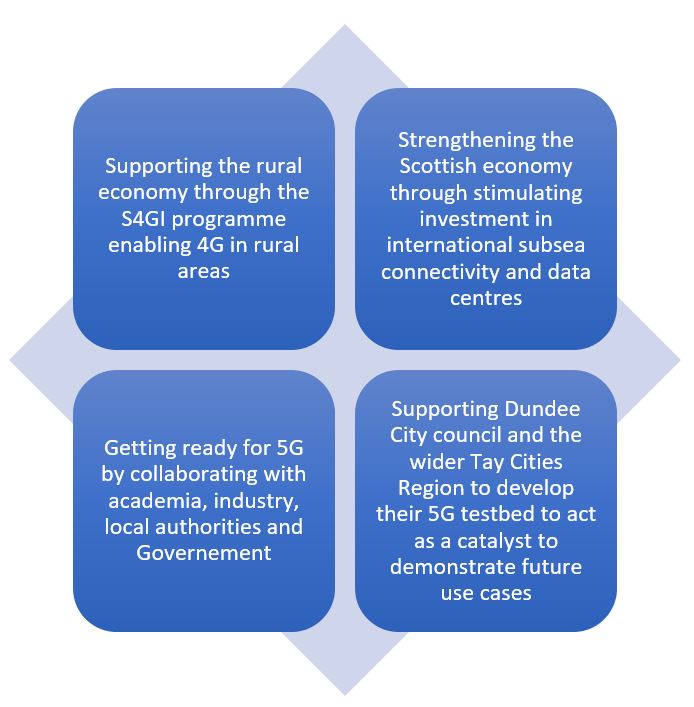 We will continue to explore how new technologies can be used to transform the way in which businesses, public sector bodies, citizens and visitors interact to enrich their respective digital experience to stimulate further economic growth across Scotland's unique geography.