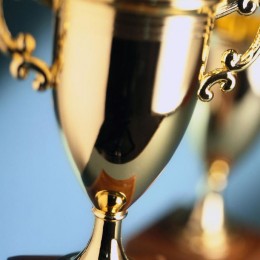 A Scottish LED street lighting replacement programme, forecast to deliver electricity and maintenance cost savings of £1.2bn over the next 20 years whilst saving 2.6 million tonnes of CO2, has been recognised at the annual Chartered Institution of Highways & Transportation (CIHT) awards.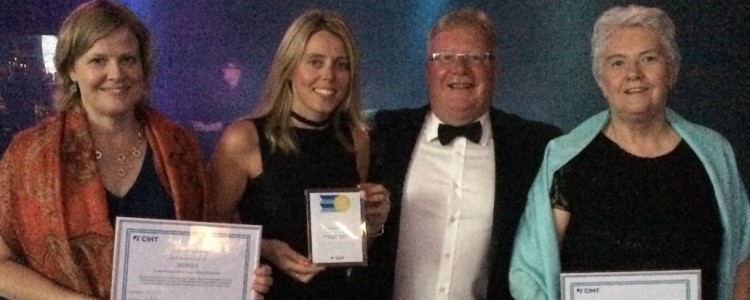 Pictured left to right: Kathie Robertson and Anna Kynaston from Scottish Government and Lindsay McGregor and Morag Wallace from SFT.
The Scottish Futures Trust (SFT) picked up the Sustainability Award for the Scotland Street Lighting Energy Efficiency Programme which was established to accelerate councils' investment in energy efficient street lighting in order to lower operating costs and reduce carbon emissions.
Funded by Scottish Government, the Programme is run in partnership with representatives from all Scotland's councils, Zero Waste Scotland, the Society of Chief Officers of Transportation in Scotland, Scotland Excel, Scottish Enterprise and the Scottish Government.
Street lighting typically accounts for up to 25% of a council's electricity bill. It is estimated Scotland's 900,000 street lights consume 385 Giga Watt hours of electricity annually at a cost of £41m and release 205,000 tonnes of CO2 into the atmosphere.
Integral to the Energy Efficiency Programme is SFT's innovative Street Lighting Toolkit which allows councils to calculate what the reduced electricity usage will be if they change to new, energy-efficient LED lighting. The toolkit also determines what level of investment is required by the council to replace its old lights with new LED fittings, how it can be financed and the payback period of the investment.
The number of LED street lights now installed in Scotland has increased to over 125,000 and saved councils £7.7m in avoided electricity and maintenance costs, and reduced carbon emissions by 24,500 tonnes of CO2.
Investment in LED lighting is expected to rise to £337m by 2021, delivering electricity and maintenance cost savings of £1.2bn as well as save 2.6m tonnes of CO2 over the next 20 years.
Lindsay McGregor, associate director at SFT and who leads the street lighting programme, explained: "With our carefully researched and robust toolkit, we have demonstrated to councils how short the payback period can be when they make an investment in new LEDs – in many cases it can be just a few years.
"With support from Scottish Government and Zero Waste Scotland, £82m has already been invested over the last three years, with all of Scotland's councils at various stages of installing LED lights. Our job is to help those who are in the very early stages to prepare robust business cases and secure funding for new LEDs to then reap the financial and environmental rewards once installed."
South Lanarkshire Council's Head of Roads and Transportation Services, Gordon Mackay, said: ""The use of more efficient LED light sources, which focus light on roads and pavements, will help the Council to reduce energy consumption, together with the associated carbon emissions, by some 50%.
"We've embarked on a £19.5m street lighting investment programme with £6.2m being spent this year on installing approximately 18,000 LED units and other improvements."
Marissa Lippiatt, Head of Resource Efficiency for Zero Waste Scotland, said: "Zero Waste Scotland works to create a society where resources are valued and nothing is wasted. We support projects in a range of sectors which exemplify and help to bring important resource efficiency principles to life.
"Investment in sustainable LED lighting delivers significant, long-term environmental and cost benefits. That's why we're delighted to have worked with Scottish Futures Trust and others to put this forward-thinking approach into practice across Scotland. It's great to have the impact of this work recognised across the UK."
CIHT judges statement: The judges were impressed by the real environmental benefits being realised by the programme, in terms of reduced carbon emissions and the prospect for even greater future benefits. Active engagement with SMEs to drive innovation is notable, and the programme played a substantial role in the development of new standards and guidance.
The programme has met its objective of accelerating the implementation of energy efficient street lighting, and has done so through proactive engagement with a complex range of stakeholders, through a partnership collaborative approach. The wider implementation potential of the programme is particularly attractive. A worthy award winner.