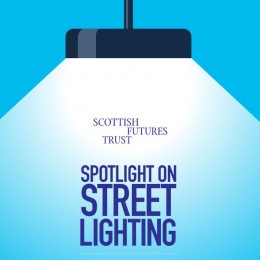 Nearly one-third of Scotland's street lamps to be LEDs by April 2017
South Lanarkshire Council already saving £550k a year
Scotland's councils will invest a further £56m in energy saving LED street lighting over the next 12 months which will help reduce their energy consumption by over 50%.
Click here to open infographic.
Of the 900,000 existing street lights across Scotland, 125,000 new LEDs have already been installed, with that figure to double to 250,000 by April 2017. In addition, by the same time next year over 65,000 tonnes of CO2 will have been saved.
Across the street lighting replacement programme, total investment by Scotland's councils in LEDs is predicted to reach £337m by 2021 and is forecast to deliver energy and maintenance cost savings of £1.2bn and save 2.6m tonnes of CO2 over the next 20 years.
These figures come on the first anniversary of the Scottish Futures Trust launching its Street Lighting Toolkit, aimed at helping councils calculate and capture the economic and environmental benefits of changing their old lamps to new LEDs.
As an example of the benefits, South Lanarkshire Council has already installed 19,000 LED street lights which are generating annual savings of £550k and is on target to replace all its 58,000 street lights to LEDs in the next two years.
Lindsay McGregor, associate director at SFT and who leads the street lighting programme, explained: "With our carefully researched toolkit, we have demonstrated to councils how short the payback period can be when they make an investment in new LEDs – in many cases it can be just a few years.
"With support from Scottish Government and Zero Waste Scotland, £82m has already invested over the last three years and all Scotland's councils are at various stages of installing energy efficient lights. Our job is to help those who are in the very early stages to prepare robust business cases and secure funding for new LEDs to then reap the financial and environmental rewards once installed."
South Lanarkshire Council's Head of Roads and Transportation Services, Gordon Mackay, said: "We are delighted that figures show we have installed the most LEDs in Scotland.
"The use of more efficient LED light sources, which focus light on roads and pavements, will help the Council to reduce energy consumption, together with the associated carbon emissions, by some 50%.
"The council is always striving to reduce the frequency and severity of accidents as well as improving road infrastructure.
"We've embarked on a £19.5m street lighting investment programme with £6.2m being spent this year on installing approximately 18,000 LED units and other improvements."
Ends

NOTES TO EDITORS
SFT's Low Carbon work stream
The focus of SFT's Low Carbon, Energy Efficiency and District Heating work stream is to support investment in the public sector estate to contribute to achieving Scotland's Climate Change targets.
SFT's work not only generates cost and carbon savings, but also supports local economic development and improves the existing estate for the benefit of all users.
Street Lighting
Across Scotland there are some 900,000 street lights costing local authorities £41 million a year in electricity charges. These lamps also release 200,000 tonnes of CO2 into the atmosphere each year.
With electricity prices forecast by the Department of Energy & Climate Change to increase substantially over the next ten years, it was timely that in February 2015 SFT published its latest Street Lighting Toolkit. The Toolkit is aimed to provide local authorities with the most up-to-date information to enable them prepare robust business cases to invest in spend-to-save measures to phase in new LED lighting.
Work to date with local authorities, Scottish Government and Zero Waste Scotland has seen committed street lighting investment levels increase:
| | |
| --- | --- |
| Year | Investment made |
| 2013/14 | £7m |
| 2014/15 | £30m |
| 2015/16 | £45m |
| TOTAL | £82m |
| | |
| --- | --- |
| Year | Planned investment |
| 2016/17 | £56m |
Since the publication of SFT's Street Lighting Toolkit in February 2015, over 200 separate organisations have requested a copy, some of which are based in countries as far afield as Mongolia, Brazil, New Zealand, Japan, South Korea and Israel.
SFT's toolkit has been adopted by the Department of Energy and Climate Change for use across the UK.